First Pics "installation on engine"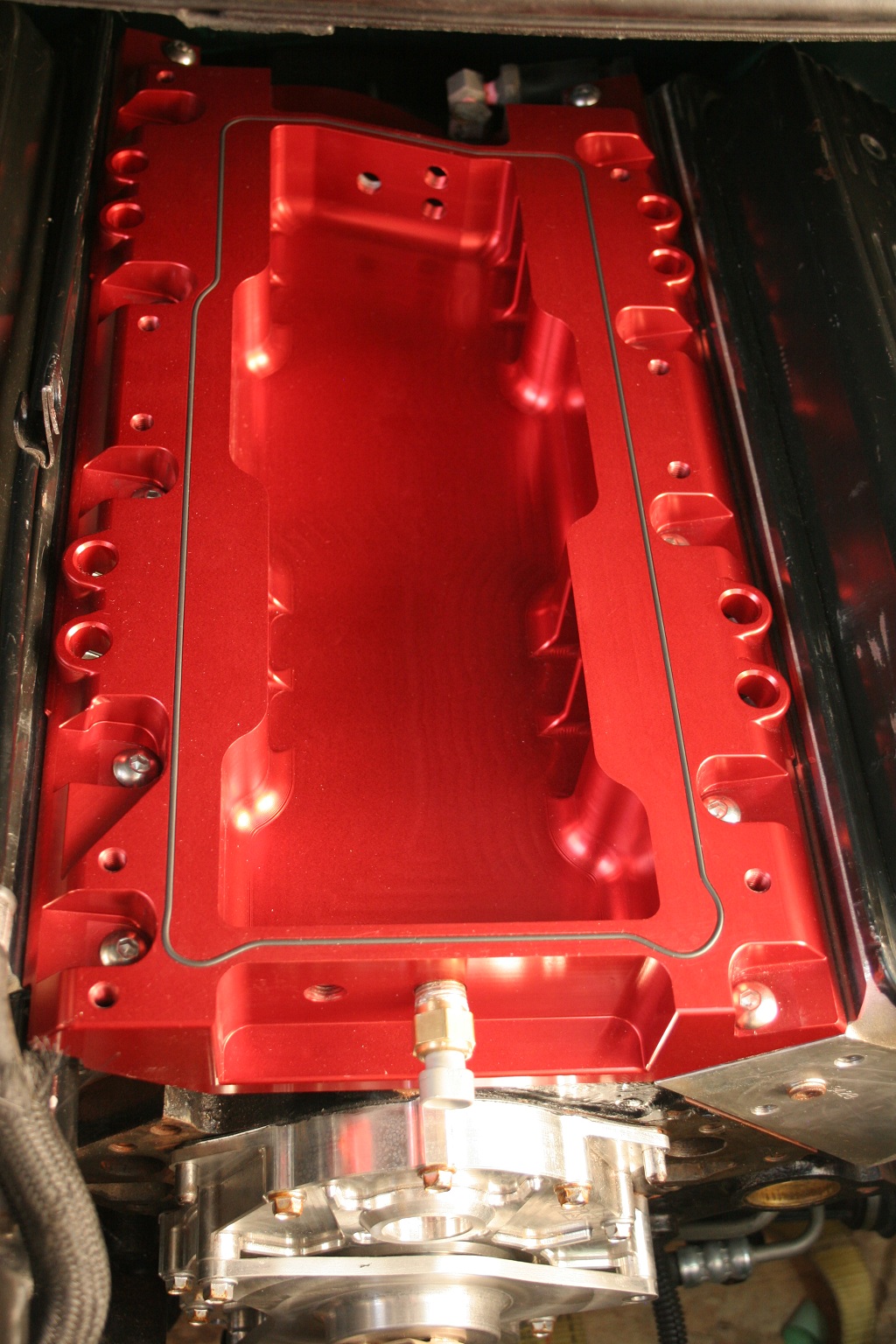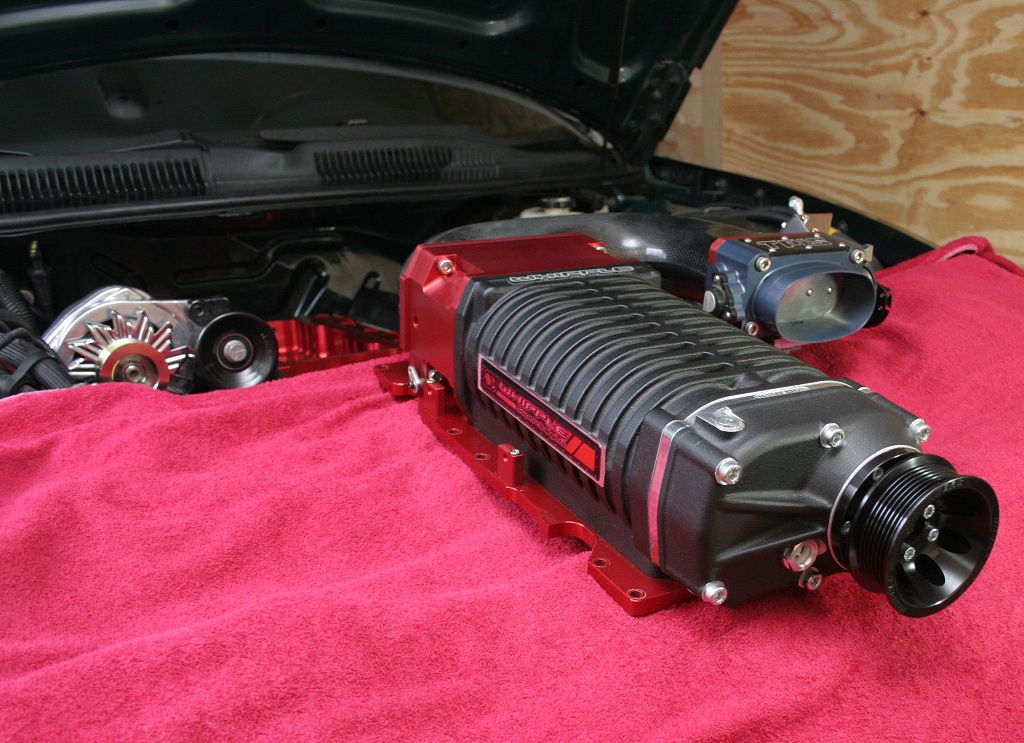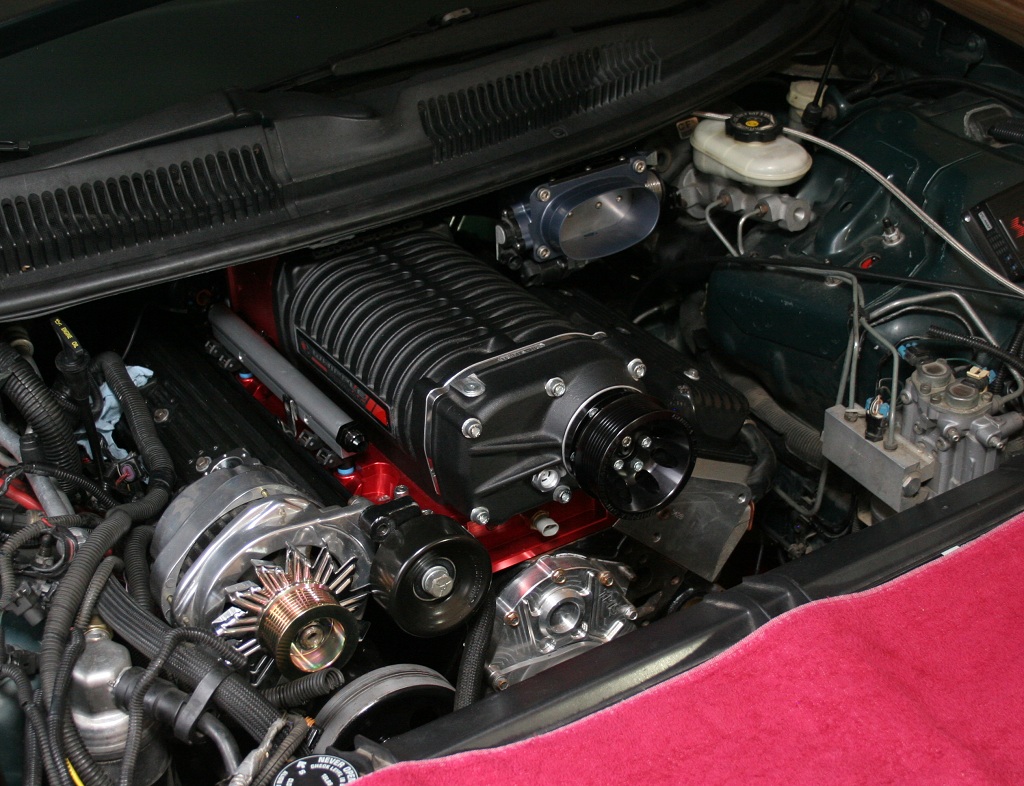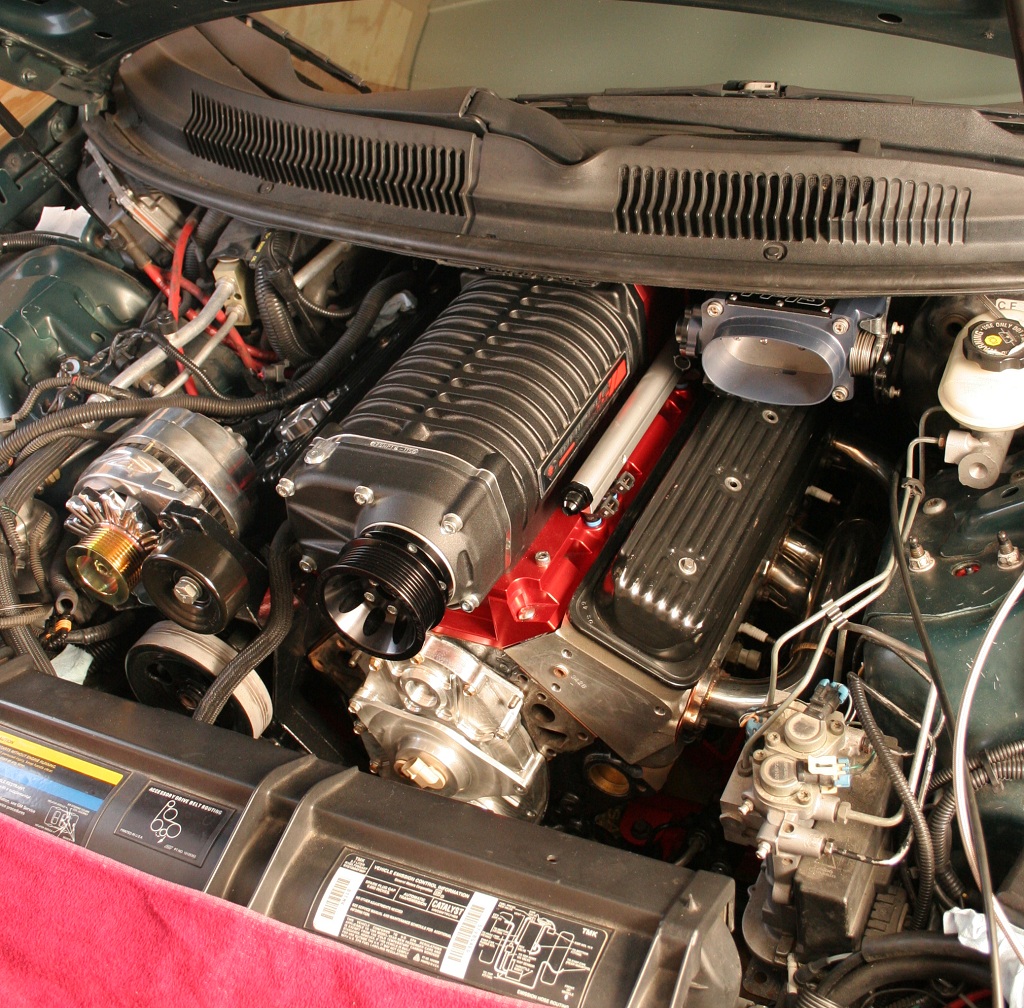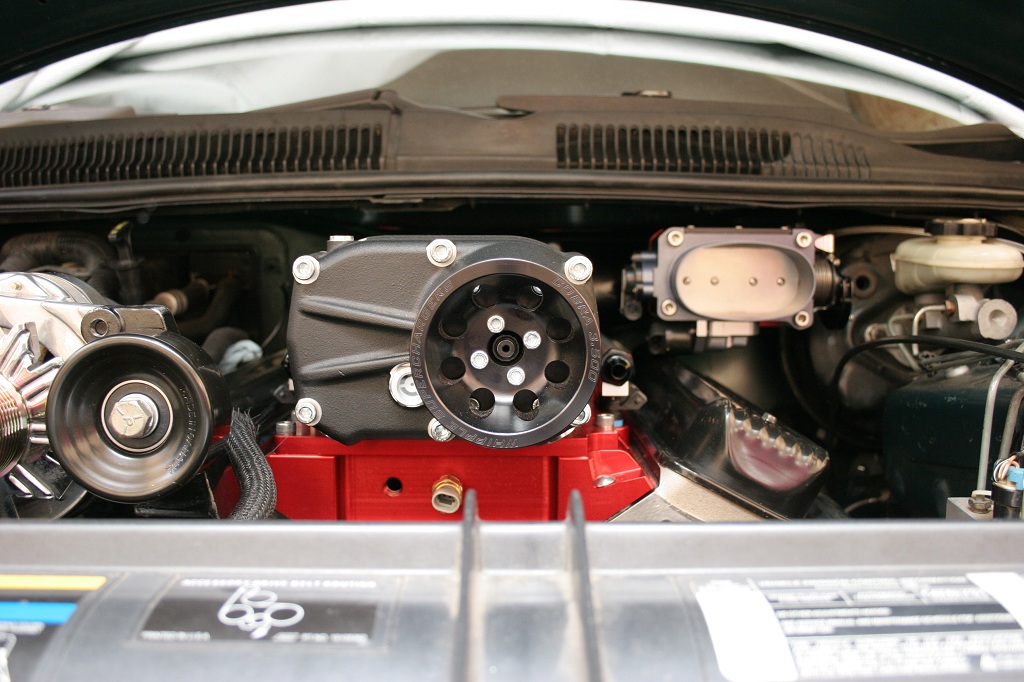 First PicsAfter Anodizing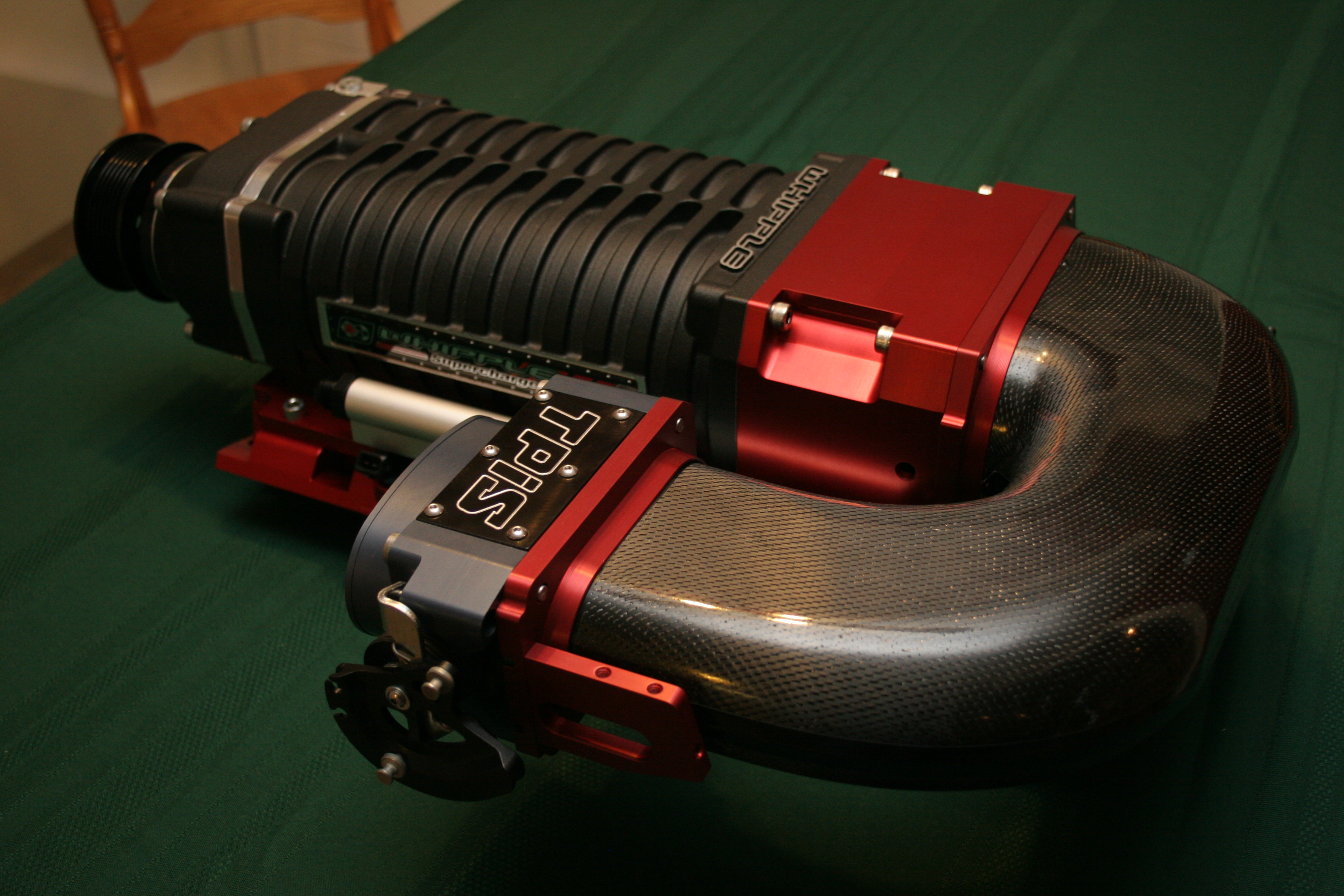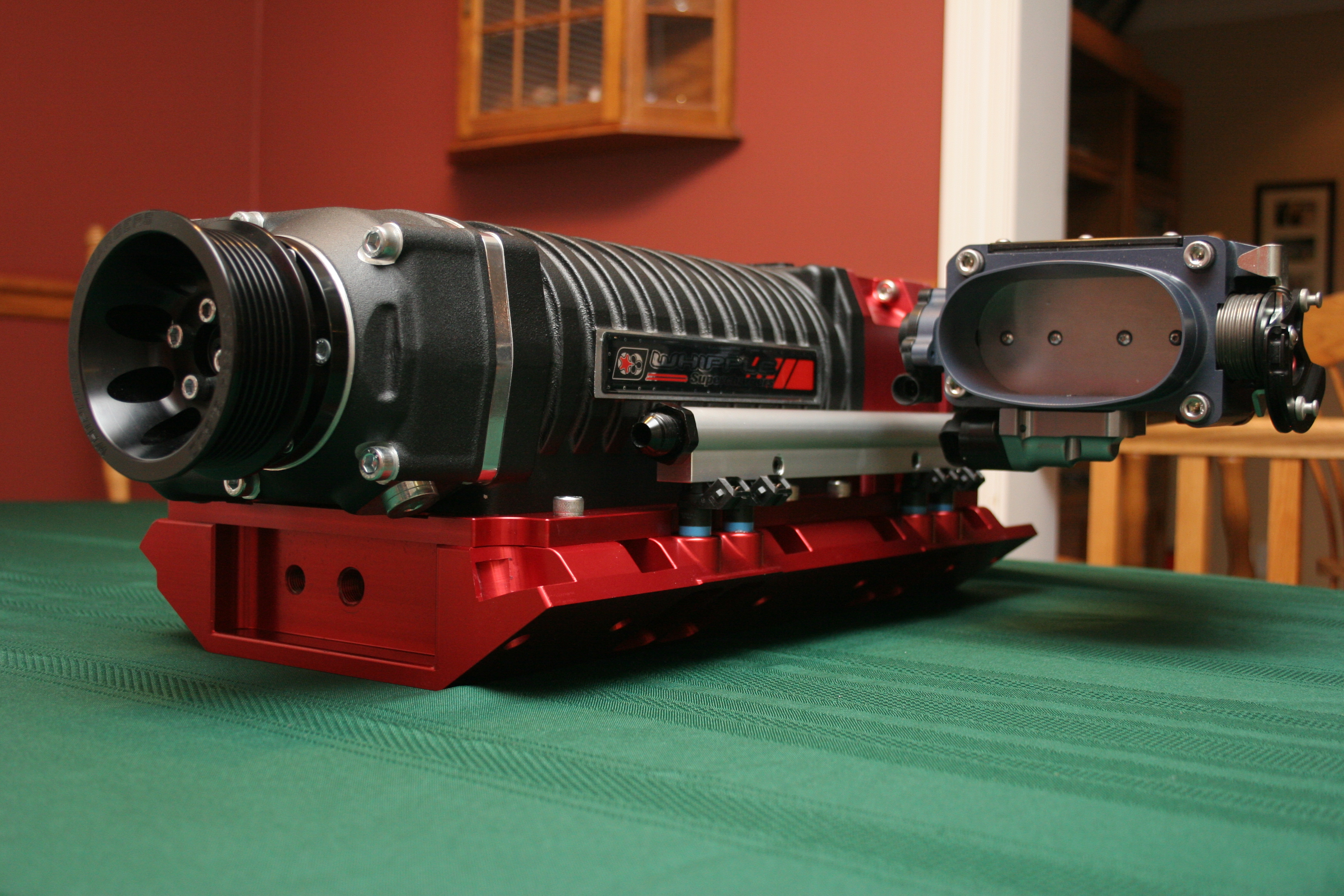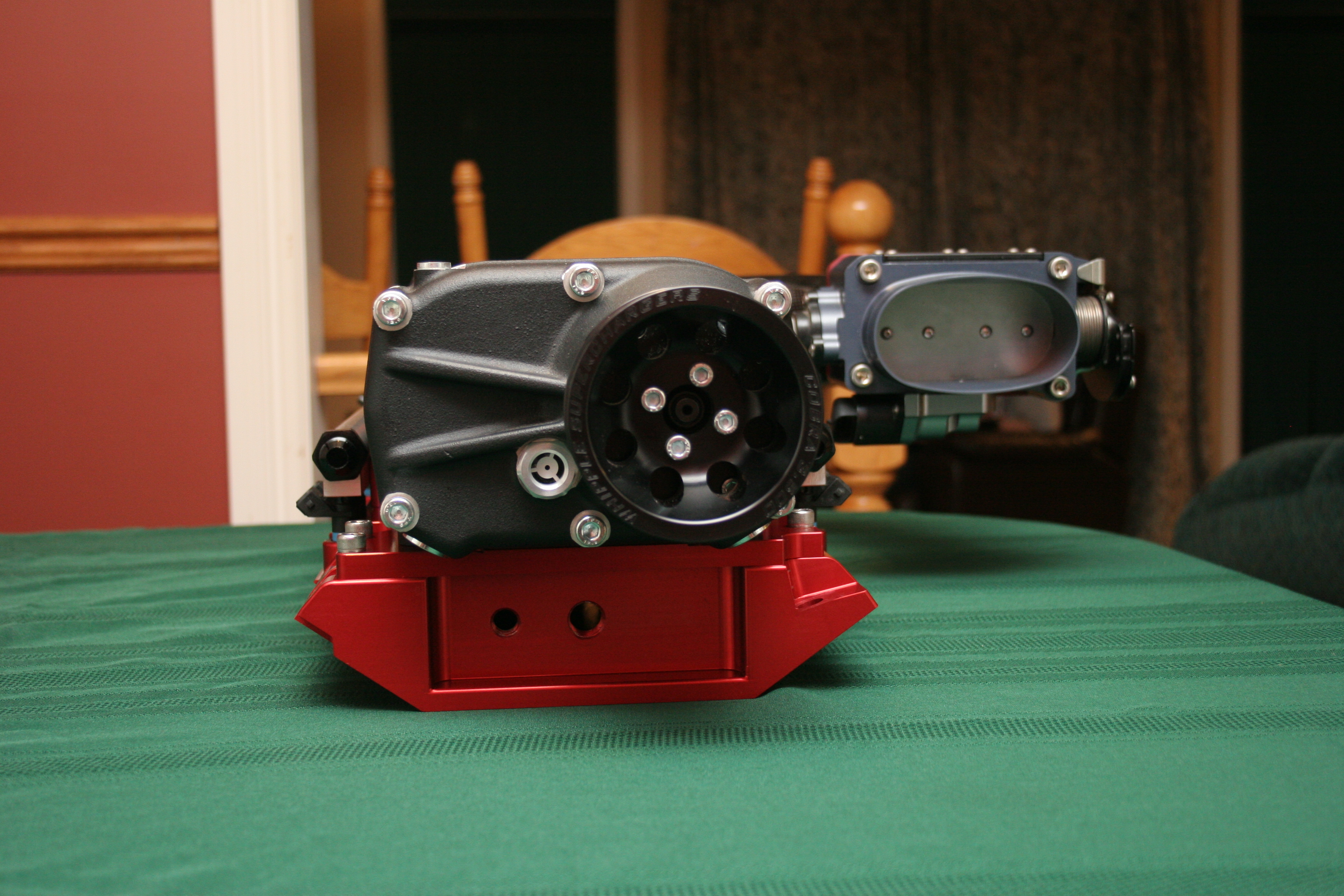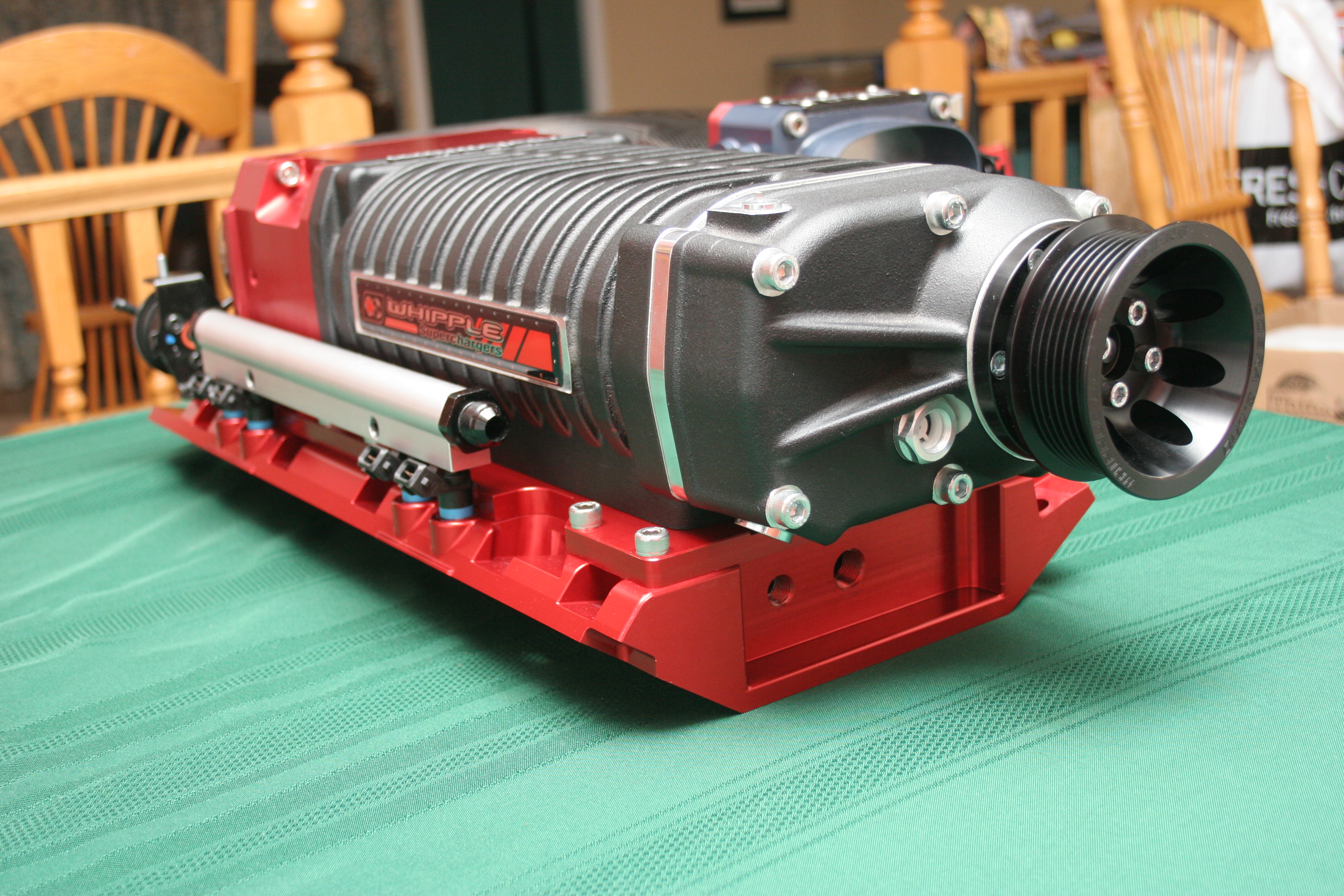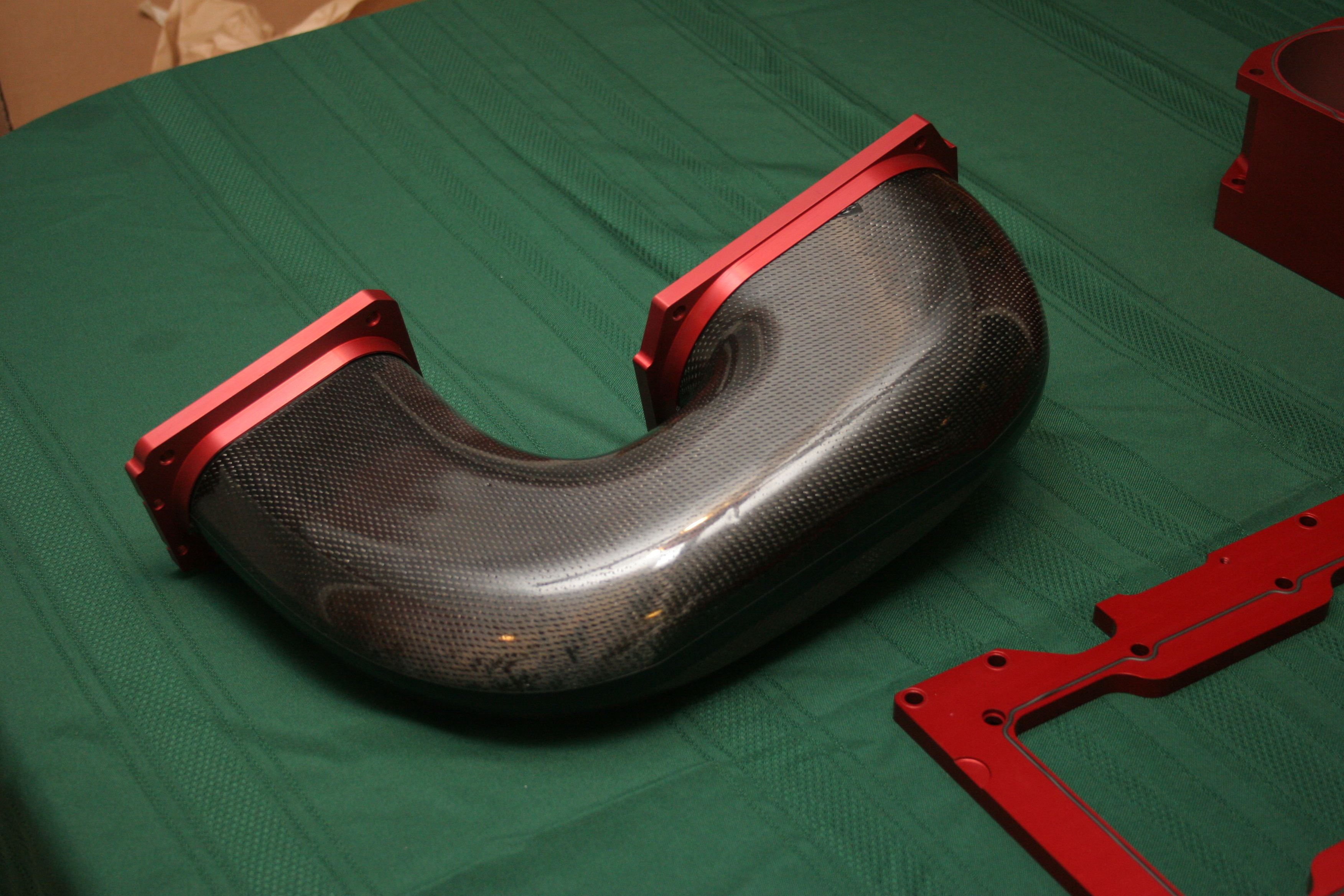 Before Anodizing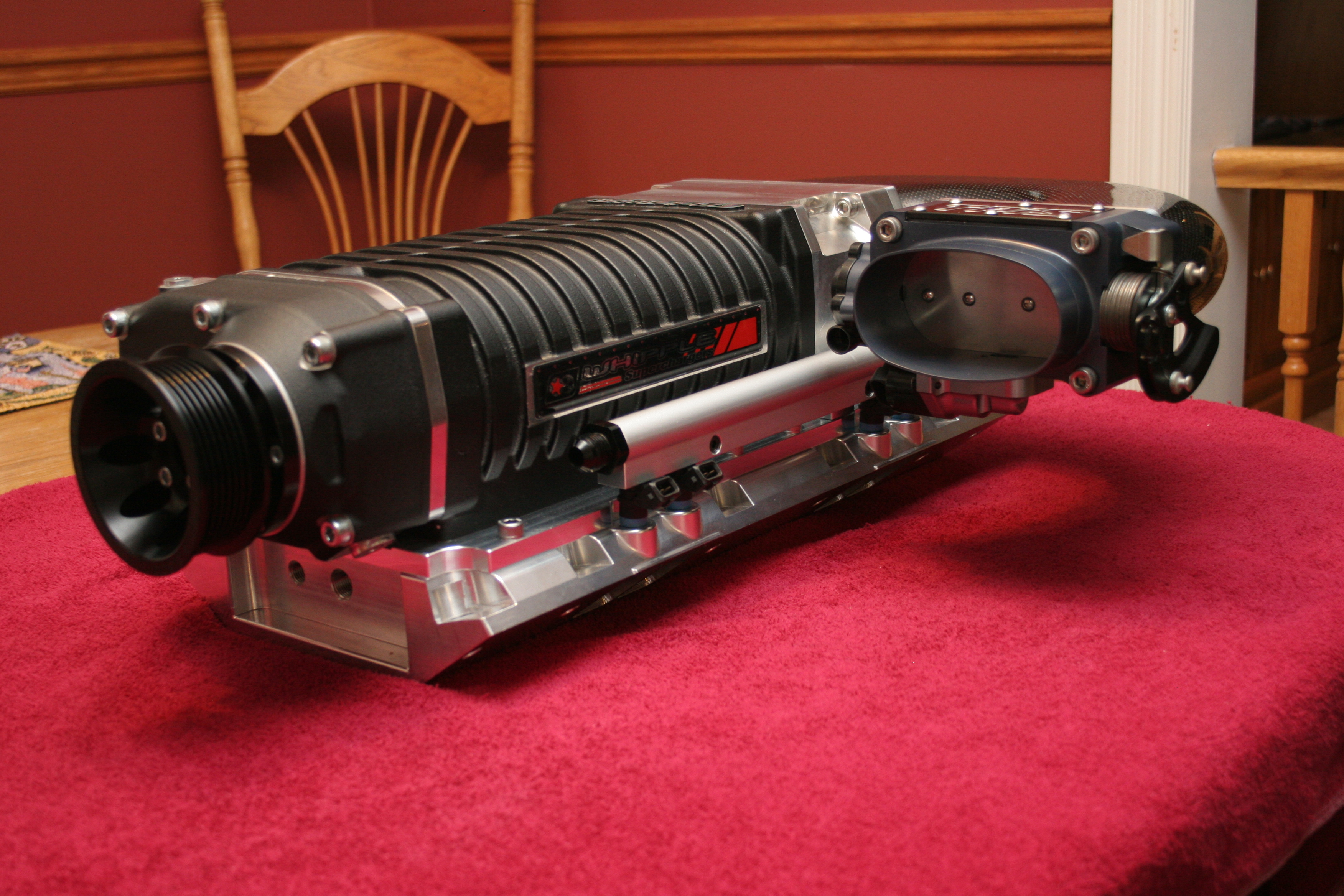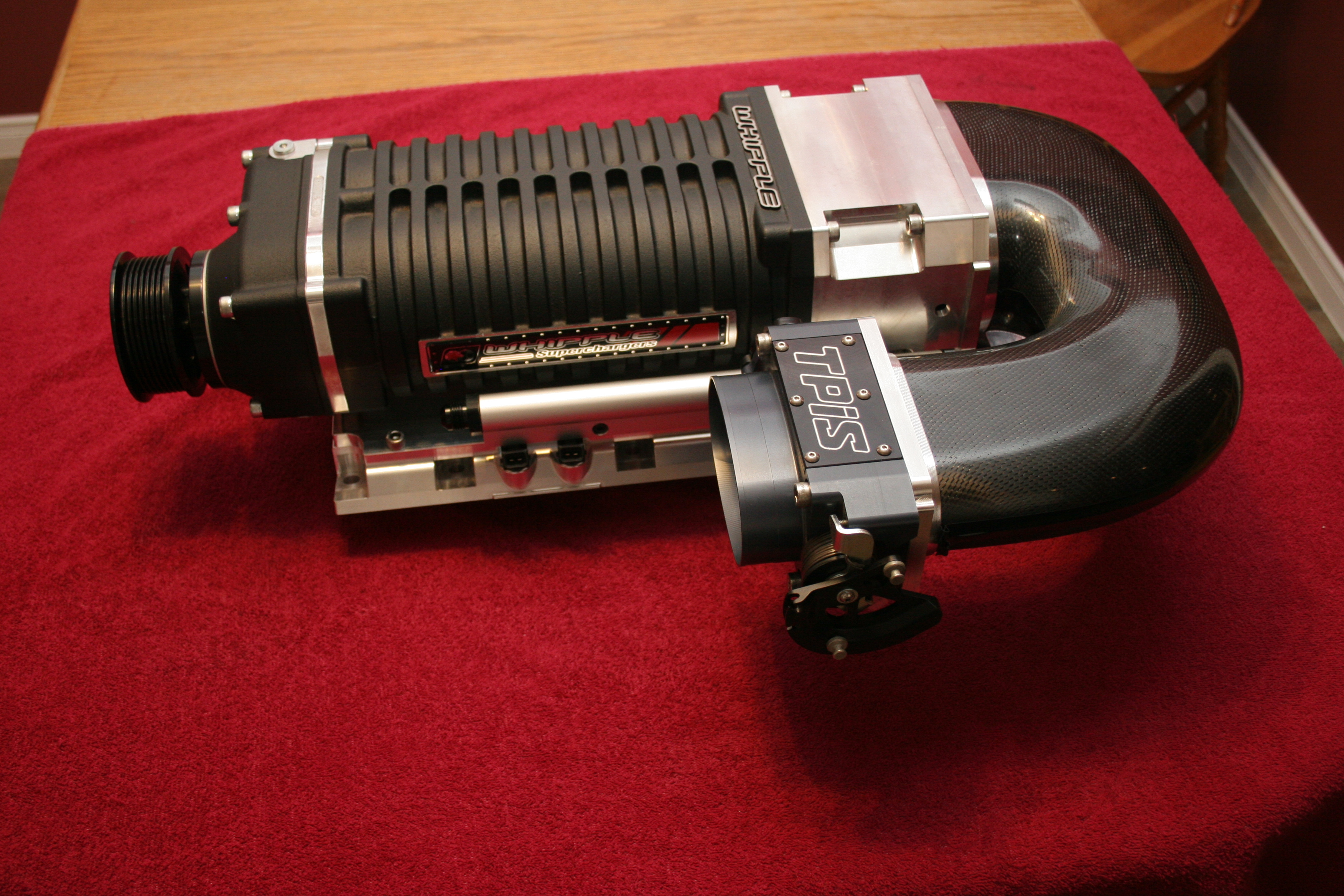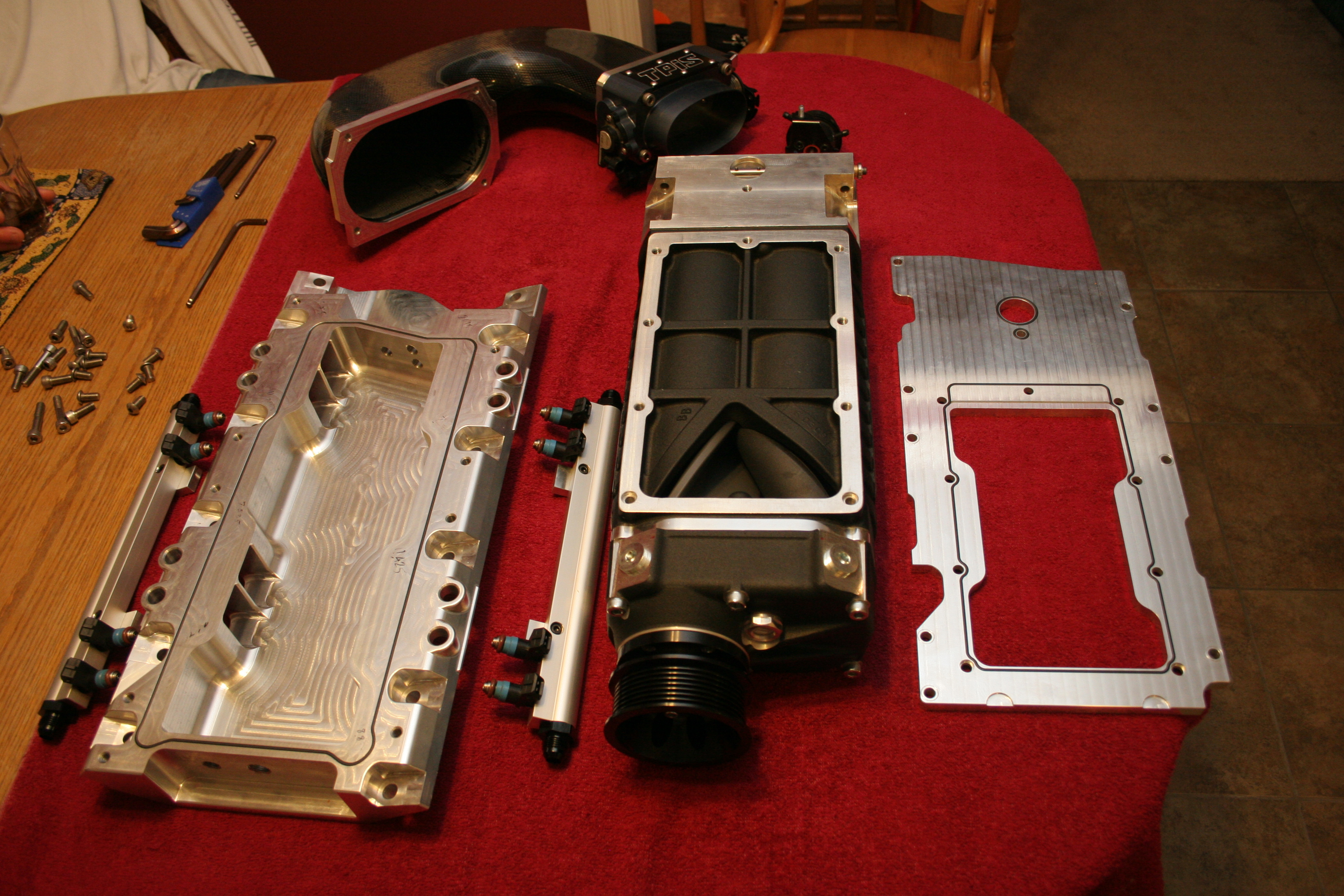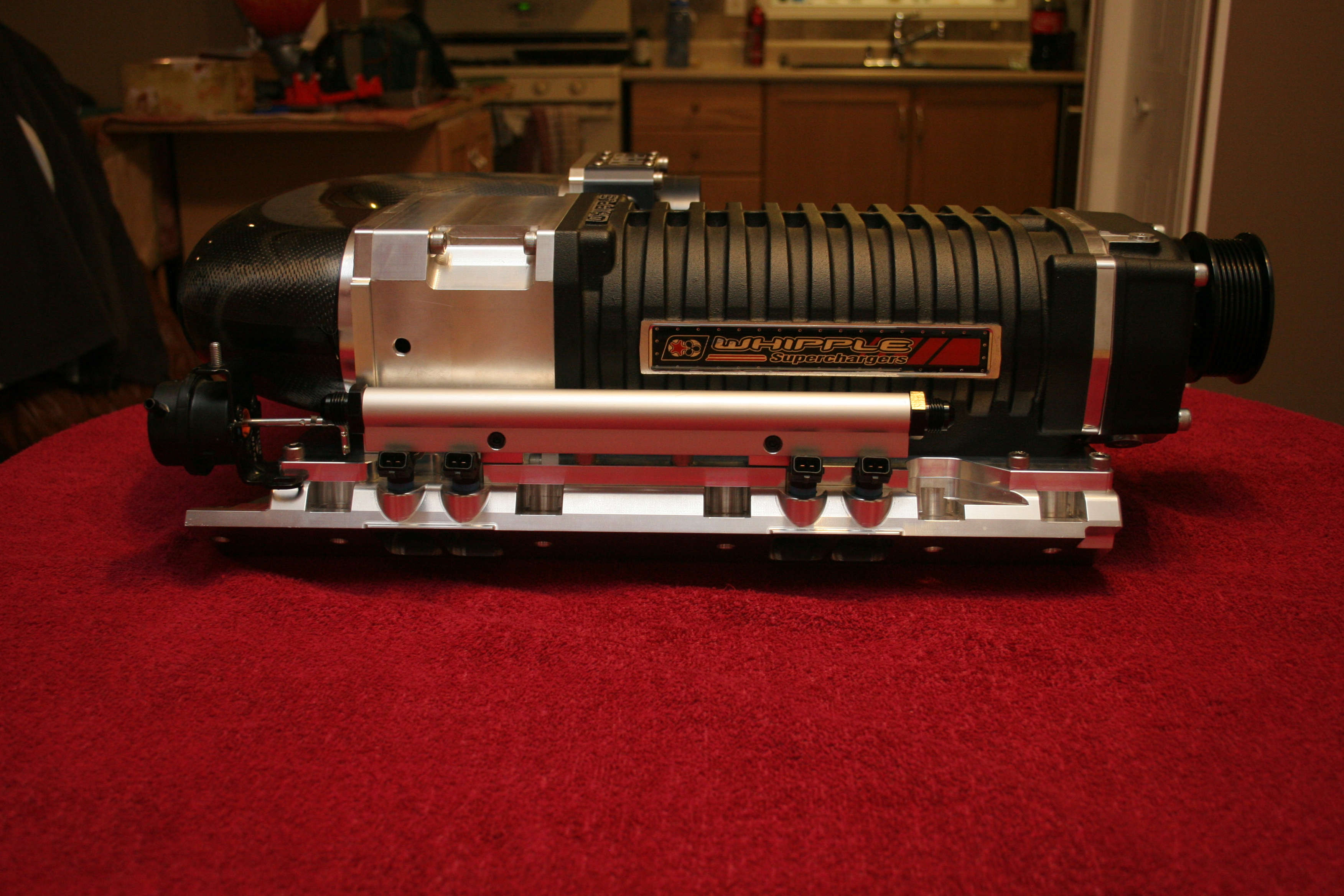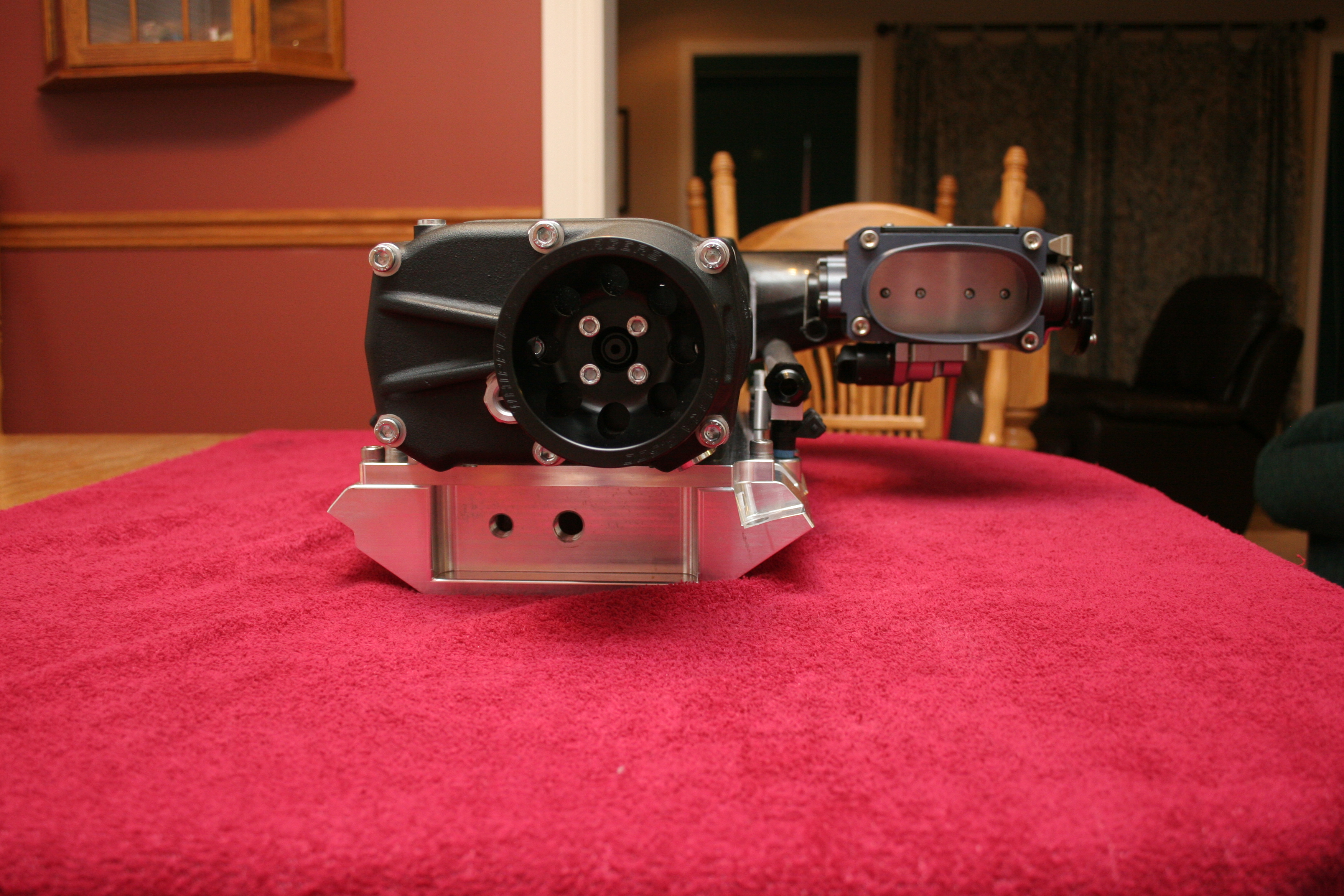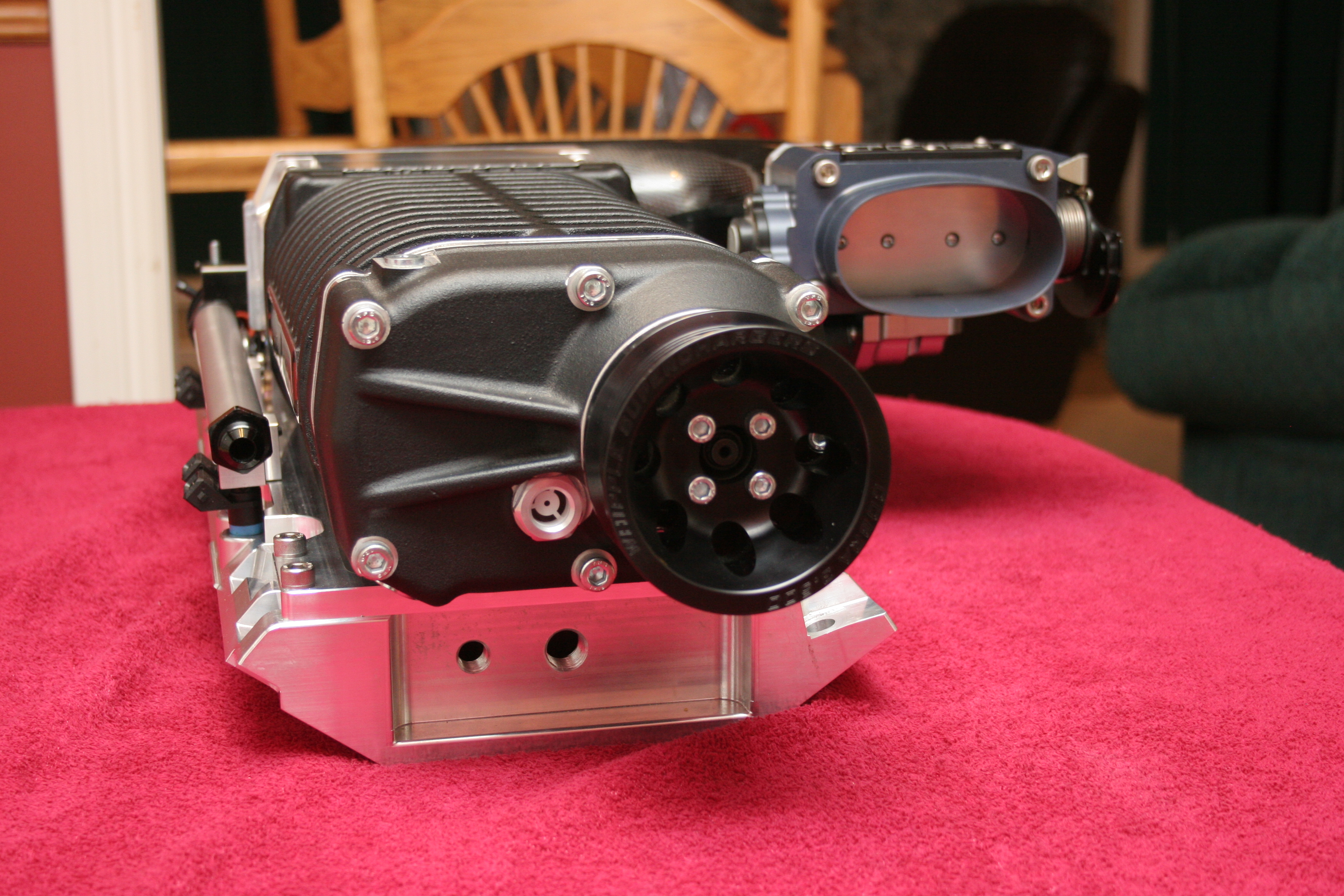 New Carbon Fiber Elbow Design! Started May10/11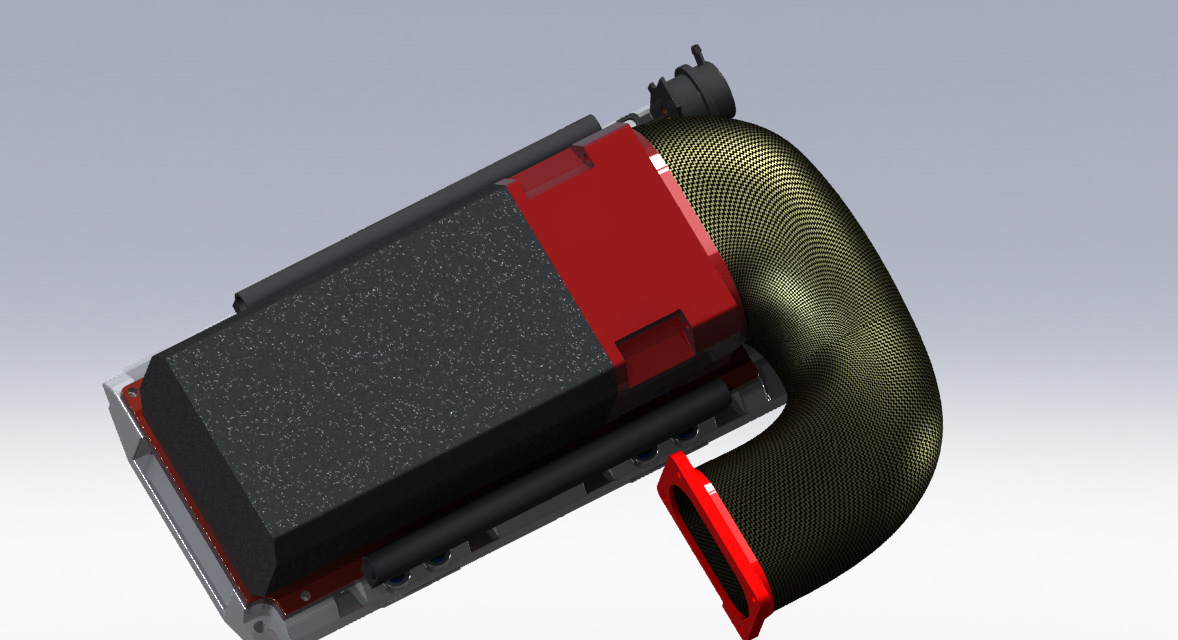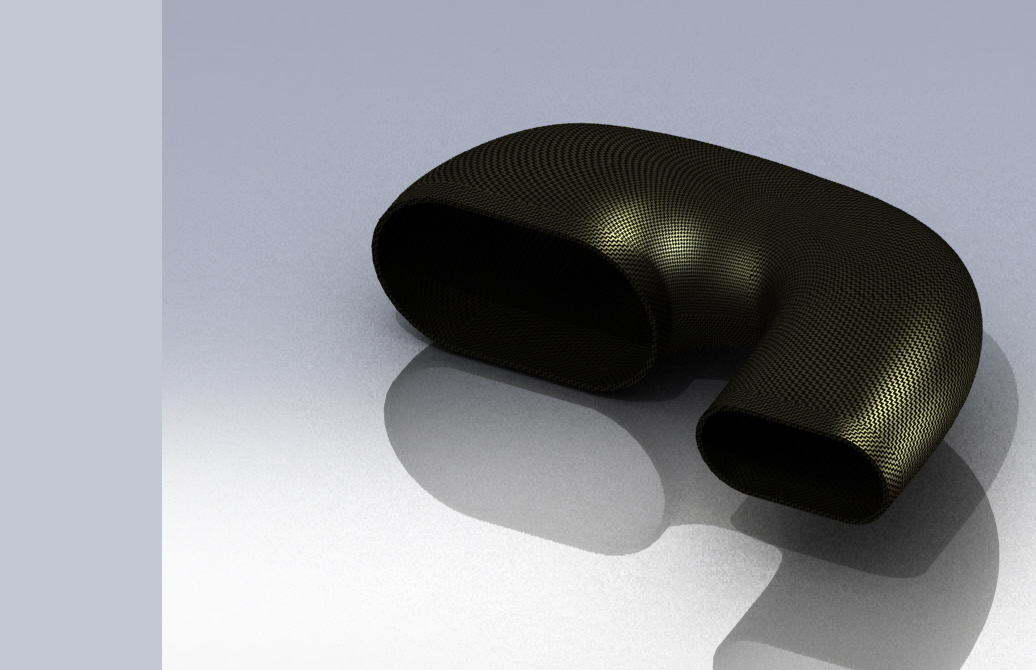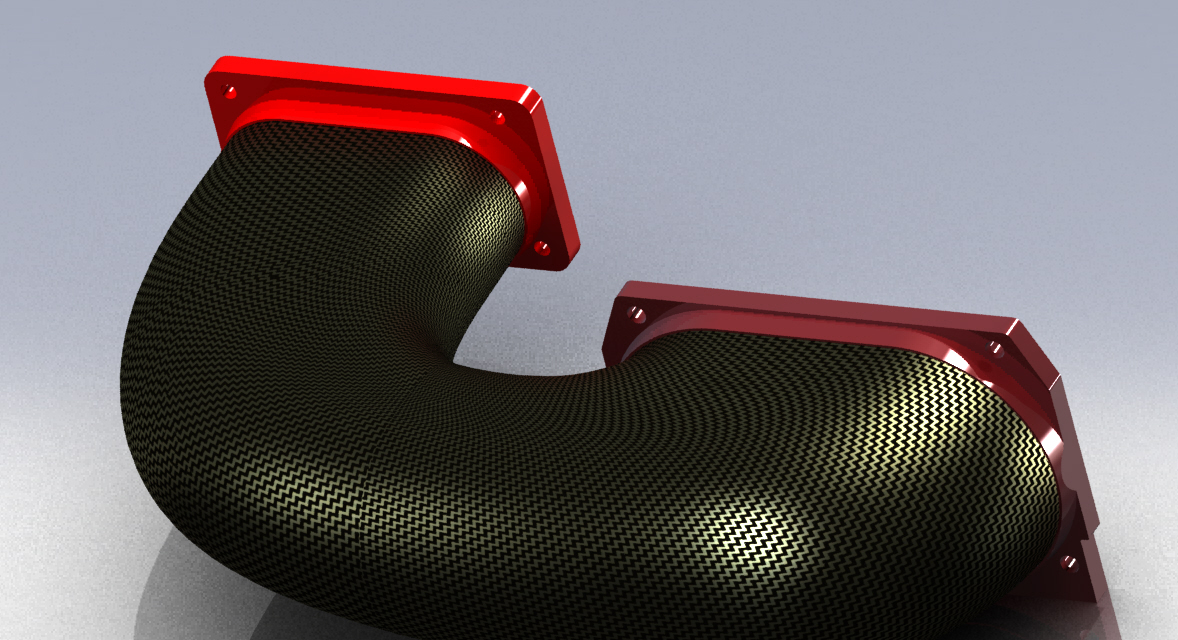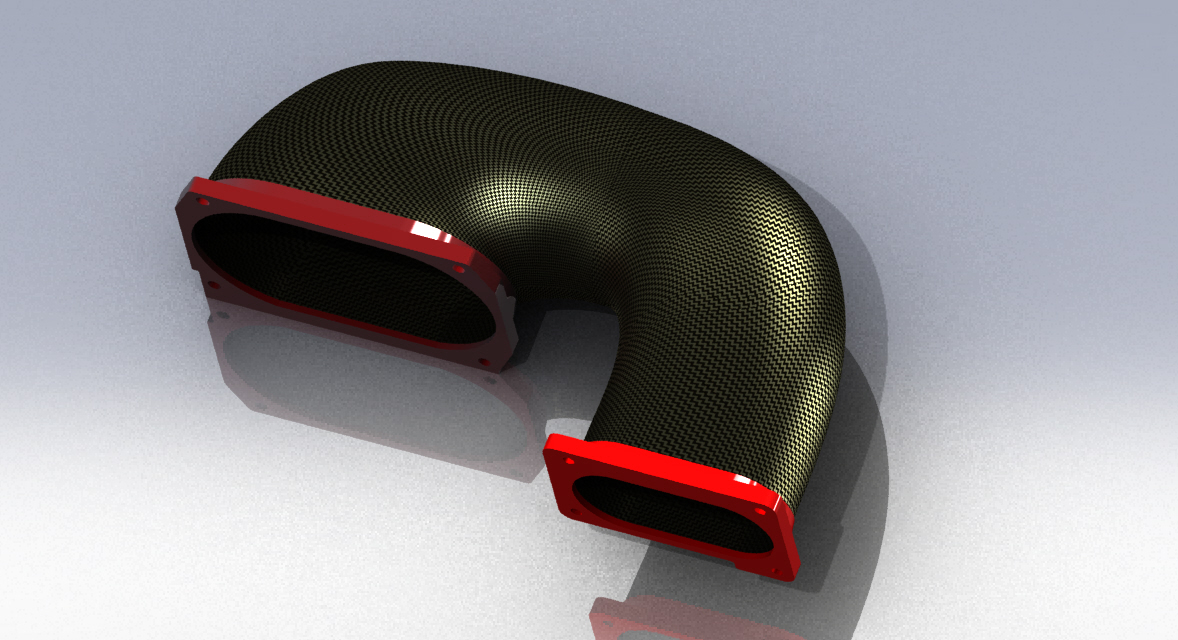 Vacuum baging first part! 8 layers of 10.9oz 8HS CF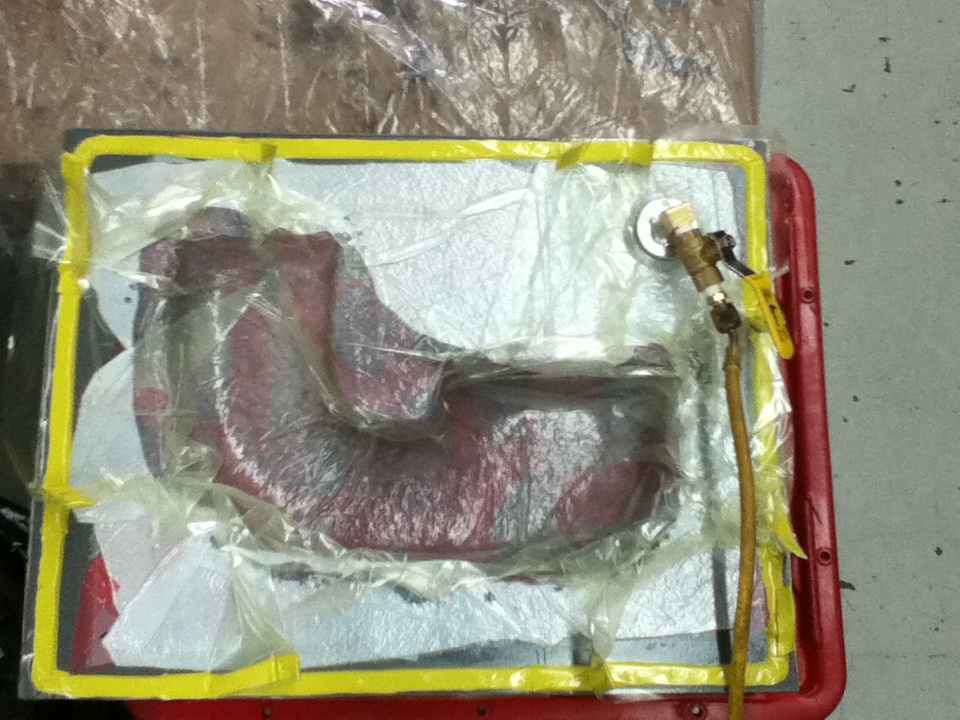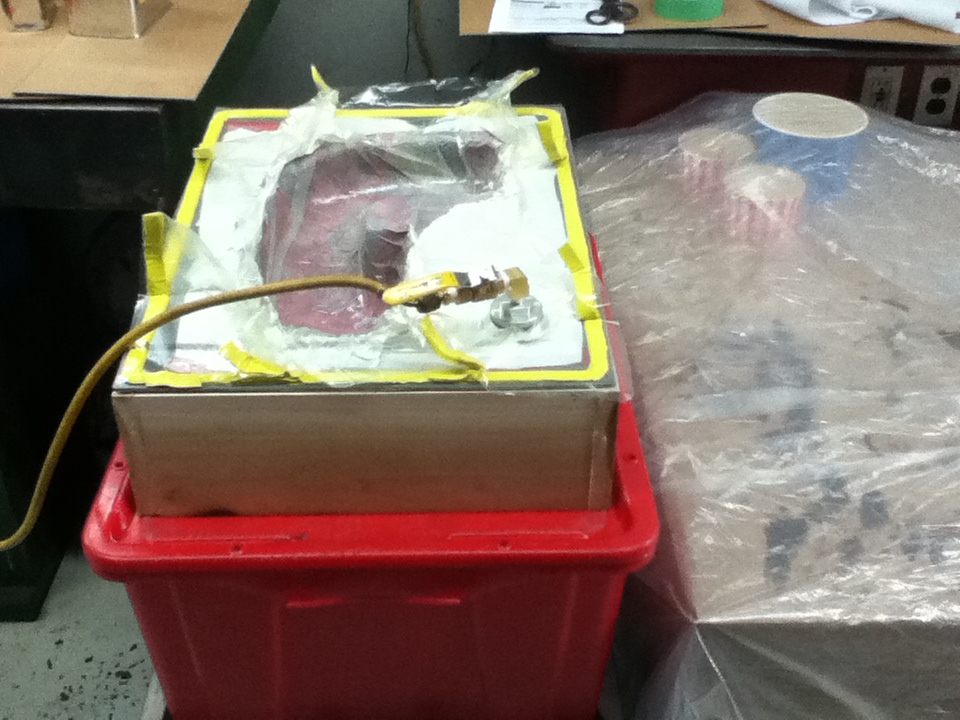 Perfect Vacuum! 28.5"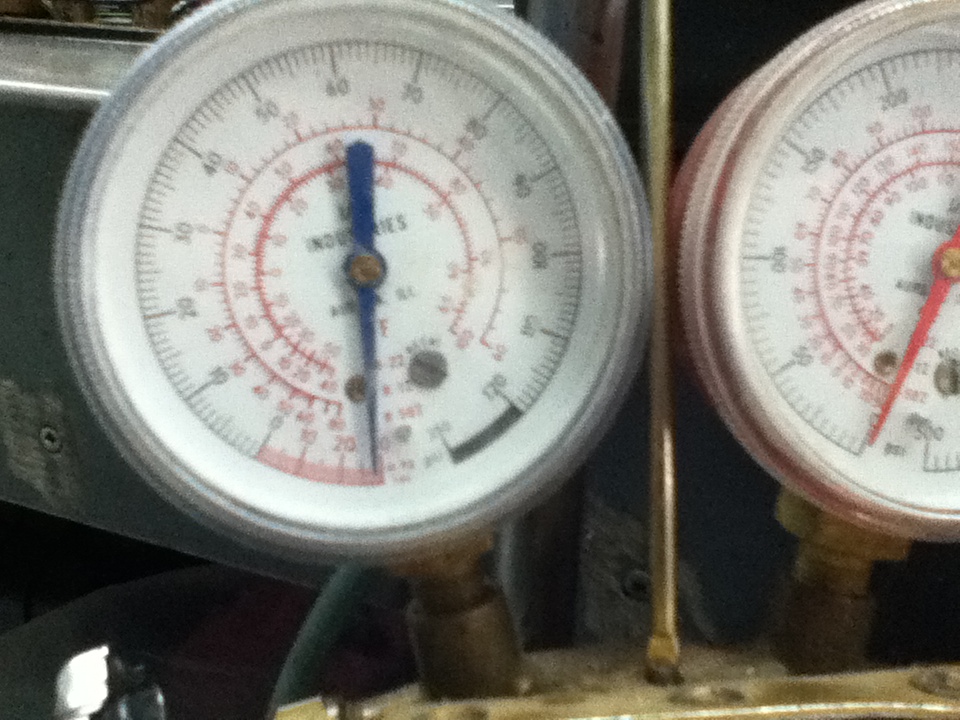 Lower half out of mold weighing only 0.6lbs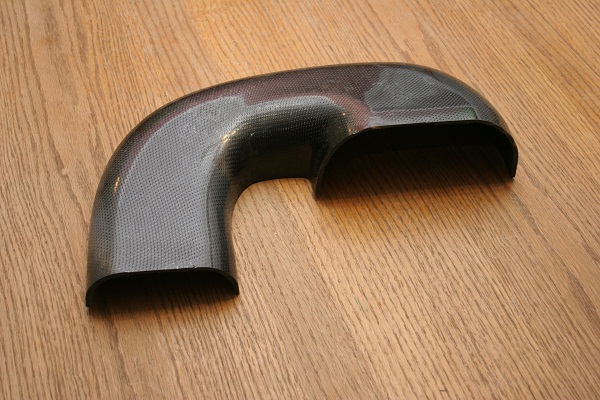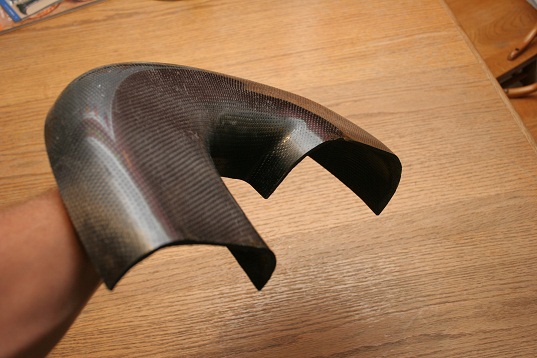 Carbon Fiber back ordered waiting for more to complete the lower half!
LT1 with Whipple Supercharger
New CNC'd manifold.
April 8/11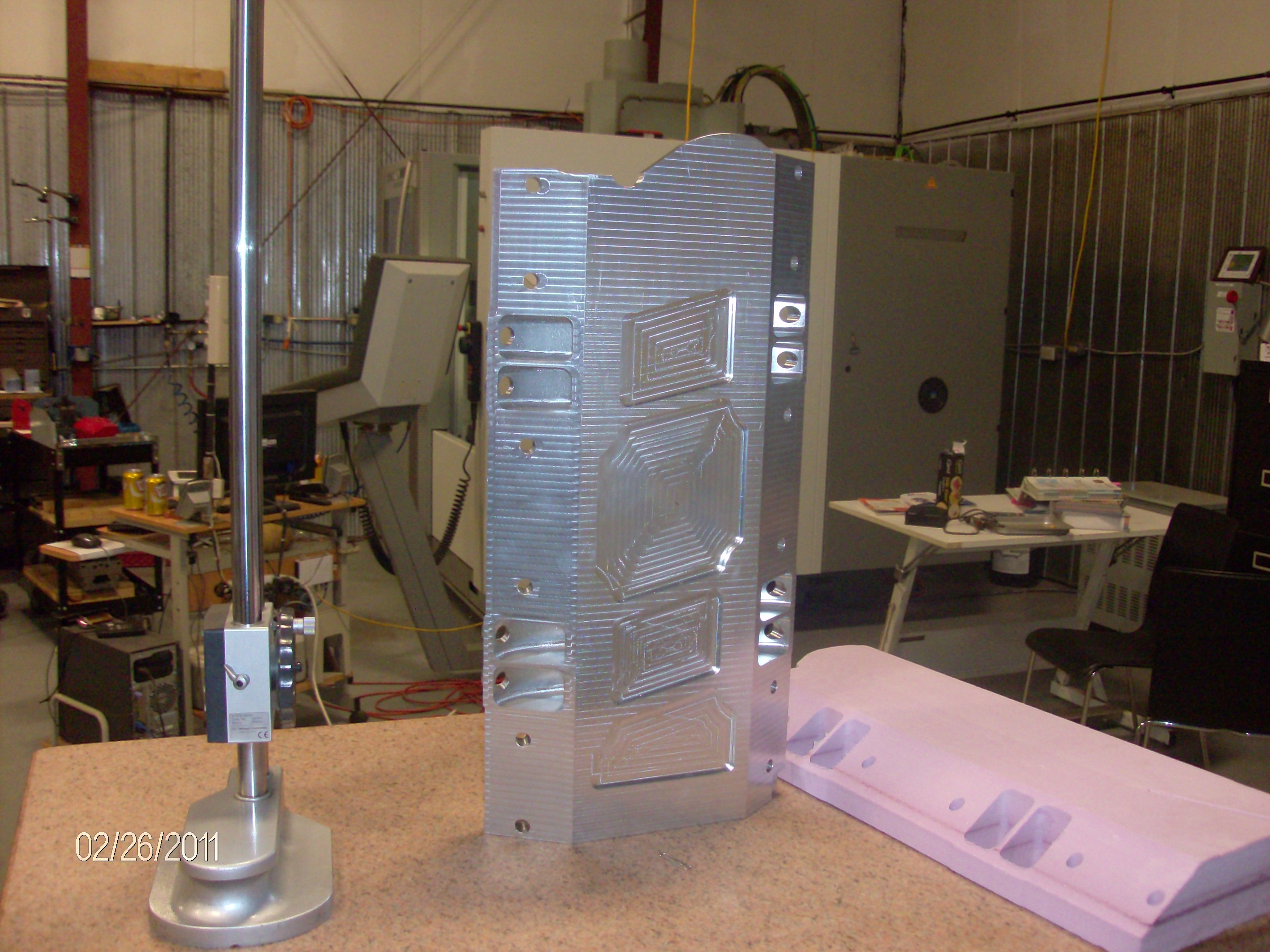 This the start of phase II
I am currently building a new engine capable of handling ~1000hp. I won't really get the chance to try this since I am shooting for something less 650-750 hp rear wheel.
I am going to use my new intake design with a Whipple 175ax supercharger. No K-Member spacing is required or hacking or cutting. This fits under the stock hood!!!
The long block is being built by D,Sousa performance in Milton Ontario. This engine is far from taxing his expertise in the performance world.
The build so far for the LT1 is as follows.
Phase II LT1 with Whipple 175AX
-Stock LT1 Block machine .030 over 4" bore
-3.48" Eagle 4340 crank = 355cuin.
- JE extreme duty blower forged -22cc pistons
- 8.9:1 Compression Ratio
-5.7" Eagle ESP H-Beam rods with L19 ARP bolts.
-Eagle 4 bolt splay caps with ARP Fasteners
-Moroso Oil pan #20185
-M55HV oil pump
-ARP oil pump drive
-Total-Custom custom blower rings
-Trickflow heads (~68cc chamber )custom full CNC. Flow#'s?
-Cometic head gaskets and ARP studs
-EFI Connection LS1 computer conversion with custom 3 bar hp tuners OS and real-time tuning.
-EFI Connection custom CNC timing cover for clearance of double roller chain and reluctor ring.
-Timing Chain - Cloyes Premium Billet True Set # 9-3645X9 9 position adjustment. *note* Top gear is .100" thicker than stock and
must modify EFI Connection cam sensor housing and cam reluctor!
-Corneltech custom CNC intake manifold and elbow with Whipple (2.9L) 175 AX 1" non-drive snout.
-Machined ATI balancer for 8-RIB belt and double keyed crank
-3.5" cobra pulley upper with 7.5" lower crank (ATI)
-Headers Lamont Performance 1 7/8" stepped with magnaflow cats welded in.( great headers!)
-Rear Axle ford 9"
-Rear Axle Ratio 3.55's
-Crower custom grind cam 232 int. 238 exh. .622 .624 lift 114 LSA
-Melling 25% HV Hp pump with ARP drive Shaft and hardend steel oil pump drive gear
*The first manifold is being machined right now!*
Pictures

Block1
Block Machined .030 over and drilled for 4 bolt caps.

Eagle 4 bolt Splay
Eagle 4 Bolt Splay caps with arp bolts

JE Slug and ESP H-beam
JE extreme duty -22cc and Eagle ESP H-Beam with L19 ARP

Eagle ESP H-Beam
ESP H-Beam with L19 ARP bolts

One Tough Piston!
This JE Extreme Duty Blower piston is a Thing of beauty. Measures -22cc. Notice the extra web around the skirt!

L19 Bolts
I guess better safe than sorry!

Immaculate Shop! Engine Assembly Room.
Joe runs one damb clean shop. I dropped in unannounced to take these photos. Can you believe this place?

Cap drool.
I'm just drooling over parts!

Block pics

Block Pics

Block Pics

Partly assembled Bottom end
Feb3/2010

Flipped over view

Whipple 175AX
NEW WHIPPLE SITING ON OLD MANIFOLD

Comparing M112 to Whipple 175AX

Inlet will be cnc'd to fit TB

Whipple is actually lower than the M112

Old set VS new

This is going to Haul the Mail!

3.5' pully to start with!

The manifold is going to be CNC'D

New Larger fuel rails

LS1 EFI connection conversion
This conversion will let me use a LS1 2-3bar tune using HP tuners. Notice the new CNC timing cover from EFI Connection. This will provide room for a cloyes DR chain and the reluctor ring nad sensors.

The whole convesion kit coils and all!

CNC timing cover and 24x reluctor and 1x reluctor

Inside the cover

Clearance for 24x ring.

New CNC manifold design
Fitted with mockup Whipple

New CNC manifold design
Fitted with mockup Whipple

New CNC manifold
Fitted with mockup Whipple 175

New CNC manifold design
Fitted with mockup whipple 175ax

CNC intake elbow as well!

Manifold with bypass

Manifold with bypass and rails

Custom CNC'd Trick flow 195s
Done by Joe D'Sousa

These should make some power!

64cc chamber 2.055" int and 1.60" exh

EFI connection LS1 conversion 24X
Double roller timing chain

Joe's Custom pickup for the Moroso Pan
clear view of the 24X

Oil pump and pickup

24X reluctor double keyed for SC drive

More Progress
New front end K-member

Adjustable lower arms

Firebird waiting for new Whipple SC engine

Dropping out old K-Member

Old K-Member

Shop Rules!!

Reinforcing Shop Rules!!*

Test Fitting

Me Power!

Bottom Shot
Cleaning up!
UMI K member
Engine tabs needed trimming to fit!

Putting engine on K-member

don't drop it!
Milled out clearance for AGX shock

clearance visible here!

Checking Mcleaod twin disk!
Making sure to have correct clearance between middle plate and bottom disk .020-.025"

Checking

.020"

Twin Disk!

Clearance issue with k-mem and LPP header!
Trim and paint k-member

Install T56

Lowering car onto assembly

Lowering car!

table on dollies!

It's in!

On the ground and loaded!

Can't wait!

Custom Cattedd LPP y pipe
I bought magnaflow cats and installed them into the LPP y-pipe. These headers are really high quality workmanship!

bottom pics!

AC compressor 8 rib mod
I had my AC compressor modified from 6 rib to 8 rib.

AC compressor 8 rib install
You can see the ATI and AC both have 8 ribs now!