ArcticShell Invention (1994)
In 1994 along with another student attending school "Aviation Engineering" in Thunderbay Ontario Canada, we decided to do our third year project on an invention we had dreamed up! An enclosed snowmobile using the latest composite technology. We started with a wind tunnel prototype which we tested at Lakehead U. Once a final design was agreed upon we started to build a plug for producing a mold which was made from plywood and polyurethane foam. When the plug was completed this had already consumed the allowed time for the project and was assumed by everyone that this would never become real! I was extremely determined to make this project a reality. I rented a garage in 1994 where I was staying and began construction of the necessary tooling to make a real ActicShell which is what we called it! After completing the tooling (molds) we were convinced to take them to a FRP molding shop locally. This was a really bad idea . The result was a complete loss of the molds from lack of proper prep and care for a green mold and was cooked by the so called molder. Every dollar into this tooling and close too 2000hrs labor had been lost. Ground zero. We pick up the pieces and repaired the plug to make another master tool. This time we laid the first part ourselves and was molded to perfection almost 6 months later. The first prototype was now in existence. After making the hardware and mounting it to a 1994 Actic Cat Jag 440 we began testing the new design for real. It was very surreal! After increasing interest we applied for a patent which was then granted on the design. At this point my colleague had fulfilled his interest in the project and was not interested in continuing a business venture. I began producing shells for costumers in the US and Canada. The total number of Shell produced was 18. The design was now outdated and it would be time to invest in more tooling $. I had just recovered most of my money and couldn't stomach another huge loan. I have never built another Shell to this Day. I figured there must still be some running around out there and of one which I recently discovered on E-bay. I never kept one for myself and really regret this since it was one of the coolest thing I have ever done in my life! Below are pictures and soon video. I will keep updating them as I find them and scan and capture some old video from original testing on VHS. Enjoy!
ArcticShell Inc.
Update: May06/2010
On April 17/10 I was reunited with SN#005 and met a very special family! The feeling of anticipation was intense waiting from Feb till now was but well worth the wait. The owner of SN#005 was willing to part with his shell and his 96' Jag Deluxe with only 325 original miles. Bob and his wife Dee even personally delivered the shell right to my door right from New Hampshire about a 12hr drive just to meet me! I must have made some kind of an impression for them to do this. Bob and His wife shared stories with us as I did of the history of the making of the shell. Bob is also a very accomplished builder of everything from custom motorcycles to portable saw mills or custom trucks. He is sharing his knowledge and skills with his son , and his wife is not shy of tools including the outdoor sandblaster. His daughter apparently is also capable of turning anything into museum quality art. I have to say I really can tell you it is hard to find such nice people like this. They were invited to spend the night at our house and were served a typical Canadian breakfast and some extra strong coffee for the ride home. The visit was very short and seems more like a dream now than reality. I was really taken back when I saw the Shell since it has been 15 years that I last saw one. I love this thing Bob thanks again!
---
Click on picture below for video!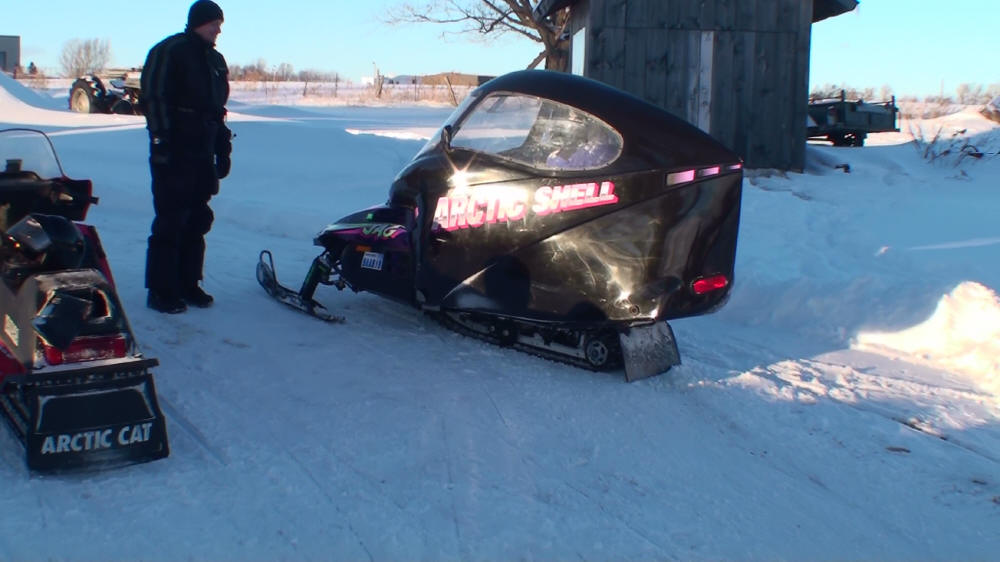 Starting plug Construction
Ok now for the other side
Continuing in own shop 2nd layer
Ready to make mold from plug!
The very First Part!! s/n001
On a roll s/n 001 and s/n 002 gen1
First Gen2 longtrack with side flares s/n 003
Gen 2, S/N 004 and S/N 005 in forground
S/N 005 with 004 in background
First prototype Gen1 s/n 001
First prototype Gen1 s/n 001
First prototype Gen1 s/n 001
First prototype Gen1 s/n 001
First prototype Gen1 s/n 001
Recently discovered S/N005 Feb3/2010
Recently discovered S/N005 Feb3/2010
Recently discovered S/N005 Feb3/2010
Recently discovered S/N005 Feb3/2010
Recently discovered S/N005 Feb3/2010
Recently discovered S/N005 Feb3/2010
Recently discovered S/N005 Feb3/2010
Recently discovered S/N005 Feb3/2010
Recently discovered S/N005 Feb3/2010
Recently discovered S/N005 Feb3/2010
Recently discovered S/N005 Feb3/2010